Adult Private Parties: Paint, Pottery & Fused Glass / Adult Classes at Water Street Studio
 Adult Classes At Water Street Studios By Gayle
REGISTER AT     WATERSTREETSTUDIOS.ORG
FUSED GLASS PENDANT CLASSES:
Saturday, January 12 
Saturday February 23
Tuesday, March 19
Thursday, May 2
WATER SOLUBLE OIL PAINTING CLASSES:
Workshop #1
Workshop #2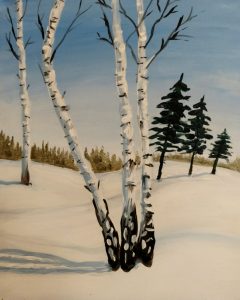 Workshop #3
Adult: At Your Location Private Parties By Studio 60 Art Teachers
Sip & Slab Pottery:
YOU WILL MAKE THIS BEAUTIFUL PATTERN DISH. YOU WILL PICK A GLAZE COLOR THAT WILL BE APPLIED FOR YOU BY A STUDIO POTTER.  YOU MAY REQUEST TO SEE OTHER PROJECT OPTIONS.
1.5 hour  $35.00 per person includes all materials. Hostess provides table covering.
Minimum 6 – Maximum 12
Wine & Paint Private Parties at your home, or other location. (Scroll to bottom for painting choices)
Wine & paint parties require no prior painting experience is needed!
Create a painting with step by step instruction by Studio 60 Wine & Paint's very talented and qualified teachers. Serving Oswego, Montgomery, Aurora, Naperville, Plainfield, Yorkville, Plano & more.
Wine & Paint Parties provide:
12 x 16 canvas
Art apron, paints & brushes, water containers
Professional step by step instruction.
$30 per painter (Minimum of 10 Painters)
Maximum 30
2  hour class time depending on painting choice.

Fused Glass Jewelry Party:
No previous experience needed to hostess this party.
You will choose glass colors of your liking then design and cut glass to complete a your project.
$25 per person (Minimum 6 Maximum 10)
Your project will be fired in a glass kiln and will need to picked up within 10 days.
Painting Gallery:
Holly Hocks
Sand Dollars & Snails
Cubs Vs. Sox
cape hatteras
Autumn Moon Tree
Vases
First Snow
cabin in the woods
Northerly Winds
Pretty In Pink
celebration cupcake
beachfront shanties
Cubs
Tuscan Window
Signs & Seaguls
Vino Fiesta
Waiting For Spring
Heirloom Ornaments
The Howling
NOEL
Santa Kitty
Caribbean Water
Paris Diamonds
celebrate
Hot Chocolate
O Holy Night
Sea Turtles

Two Tulips
Orbs & Rings
Cottage Pier
Mermaid
Tuscan Landscape
Snowball Tree
Pond Lily
Nightngale
Paris Nights
Night Hawk
Tree Of Life
Gerbera Daisies
Snow Berries
Winter Birch
Seascape Floral
Buddha
Primitive Welcome
Two Horses
Shimmer Tree
Big Snowman
Ghosts
Wine Trio
aurora borealis
Up On The Roof Top
Snow
peacock Pride
Just For Fun
Lotsa Bottles
Field Of Poppies
Tasting Flakes
Purple Moon Tree
starry night
Cattail Pond
Fall zinnias
Jolly Belly
Poppies
Lovebirds
Sunflower Burst
Time In The Garden
Spring Blossom Tree
Fall Harvest
Ebb Tide
beehive
Night Or Day
Tree Standing Tall
cozumel nights
Live,Laugh,Love
Colorado Pines
Fall In The Smokies
Faith
Red Blend
Tuscan Door
Owlettes
Halloween Moon
Christmas Ornament
Lamp Post
Hocus Pocus
Blood Moon Dragonfly
Boot Scotin Boogie
caribbean sunset
October Sky
Here Comes Frosty
Viva La France
first light
Chianti
Blanket of Snow
Cubs Dan
Tipsy Margarita
Summer Geraniums

Merry Tini

Moon Tree
Key To My Heart
Smokin Mallows
Firefly Nights
Haunted Hill
Moon Blossom Tree
By The Sea
Three Tulips
Celestial Show
Tuscan Sunset
Viva Wine
Street Light Dancer
Fall Creek
Bold Daisies
Shades of Gray
Peace Sign color
Dreaming Tree
Jazzy

City On The Water
Martini & Olives
Spirit Horse
Northern Lights
Sunset & Sails
Ripe Enough
cardinal in Winter
Big Santa
Rainbow City
Winter Night
Blanket of Snow
Buttons Balsam
Confetti Garden
Chicago Nights
Cubs
Paper Whites